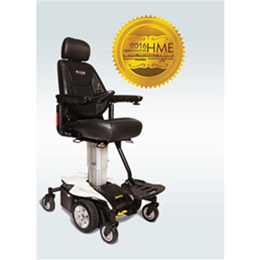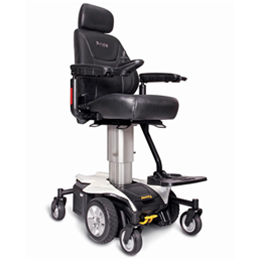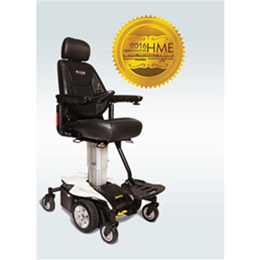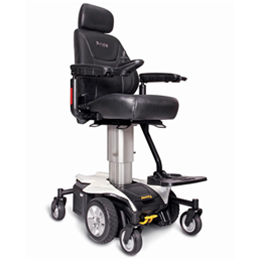 FDA Class II Medical Device* The Jazzy Air™ is a new era in power mobility. It's social mobility. Whether at home, or on the town, the unique appeal of Jazzy Air will elevate your independence and social confidence in style. View more
The Jazzy Air™ power wheelchair by Pride Mobility is offers more independence and social mobility than any other chair on the market. This chair elevates to the primary standing position in just 16 seconds allowing quicker access to countertops, table tops, cabinetry and shelving.
For safety, the chair only drives 3.5 mph while elevated, which also allows users to socialize with others at walking speed. The Patented Active-Trac® suspension provides maximum stability in both elevated and non-elevated positions.
Additional Product Features Include:
Elevates or lowers on the move with the touch of the "Air" button; stationary height adjustment via the PG VR 2 joystick drive controller
10" of power adjustable seat height in 16 seconds
Maximum speed up to 3.5 MPH (elevated) and 4 MPH (non-elevated)
Mid-Wheel 6® Drive Design with Active-Trac® Suspension for enhanced performance and maximum stability both indoors and out
Choice of 16" x 16"-18", 18" x 18"-20" and 20" x 20"-22" depth-adjustable high-back reclining sport seat
22.5 in. turning radius
Angle, height and depth adjustable armrests
Integrated seat and foot plate design with 3-position height and angle adjustment
Bright LED marker lights
300 lb. weight capacity
A per charge range up to 18.4 miles
Standard U1 battery; Optional 40 amp battery available
60" lap belt
*Pride FDA Class II Medical Devices are designed to aid individuals with mobility impairments
| | |
| --- | --- |
| Weight capacity | 300 lbs. |
| Turning Radius | 22.5" |
| width | 23.4" at the wheels; 25.5" with armrests |
| Length without front rigging | 38.6" |
| Length with front rigging | 42.23" |
| Maximum Speed | Up to 4.0 mph (non-elevated position); up to 3.5 mph (elevated) |
| Ground Clearance | 2.42" at footplate; 1" at motor bracket |
| Front Wheels | 6" solid casters |
| Drive Wheels | 10" |
| Rear Wheels | 6" solid casters |
| Drivetrain | Two motor, mid-wheel-6 drive |
| Braking System | "Intelligent Braking" (Electronic regenerative, disc park brake) |
| Suspension Type | Active-Trac® (ATX) w/Mid-Wheel 6® Technology |
| High-Back Seat (max. size) | 20" W x 20" - 22" D |
| High-Back Seat to Floor Range | 23" - 32.9" |
| Standard Electronics | 40A, PG VR2 |
| Battery Size (2 required) | 12 volt, U-1 (Optional 40 Ah) |
| Standard Battery Charger | 3.5A, Off-board |
| Weight of Heaviest Piece | 100 lbs. |
| Standard Seat Weight | 40.4 lbs. |
| Standard Seat Size | 18" x 18" - 20" |